Our Reputation
Start your dream home today!
Our Reputation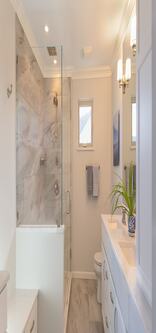 A stellar reputation for excellence in remodeling & design
Alpha Design + Build has built its reputation through hundreds of successful projects over the past 30 years. Our clients have come to expect friendly and professional service and projects developed and delivered with unsurpassed excellence.
Our clients speak well of our work
We're happy to provide references that are relevant to your project — both from recent jobs and work done years ago so you can see how our workmanship stands the test of time. Whether you're looking to turn a dull basement into a center of family fun or create your ideal kitchen or bath, there's likely someone in your neighborhood who is happy to share details of their experience with Alpha Design + Build.
View a few of our client reviews, start-to-finish case studies, or, if you're a member of Angie's List, login to read some of our "A" reviews. References are also available, upon request.